CLOSED AND SUED OUR SMALL BUSINESSES
Linda Parks has always had a choice! She chose to govern
for

Sacramento,

not

Ventura county.

Linda Parks made terrible decisions. Read the science, do the math, ask the questions, challenge the results! Sign the petition!

Linda Parks and her colleagues preyed on small businesses. They called the mom and pop shops they sued "public nuisances" accusing them of "wrongful conduct". Some of the businesses have been serving the public for decades! They did absolutely nothing wrong. Their only "crime" was defying the Board of Supervisors.
Linda Parks and her colleagues argue for "equal outcomes", not equal opportunity. Socialism's foundation is equal outcomes! Our country, state, and county are supposed to support equal opportunity! They are supposed to build up, not tear down!
Linda Parks chose winners, big box stores that remained open, versus losers, our mom & pop shops had to close or serve only a fraction of their customers but not enough of customers for the business to survive!
They did all of this for a disease that has a 99.9% survival rate!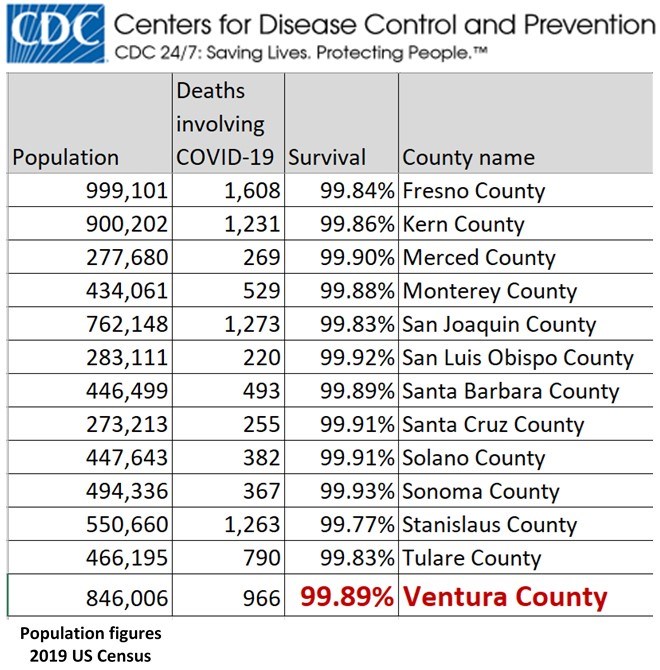 *The CDC classifies Ventura County on its Urban Rural Code as "Medium Metro" along with the other counties listed above.
This was not about health. After all, before COVID-19, three industries would be considered the most sanitary and hygienic of them all: restaurants and food service, gyms and fitness centers, and personal services such as hair salons. Why?
Because people won't continue to eat at a restaurant if the food makes them sick; they won't return to exercise in a dirty gym; and if personal services gives people infections or otherwise doesn't produce an attractive result, folks will stop going!
"Yelp also takes into account the businesses whose closures have become permanent. That number has steadily increased throughout the past six months, now reaching 97,966, representing 60% of closed businesses that won't be reopening." CNBC | UPDATED FRI, DEC 11 20209:28 AM EST