FAILED HER COMMUNITY
Personal freedom and responsibility is essential if we are to prosper and "pursue happiness". One-size does not fit all... not for our health, education, welfare, or worship choices.
Linda Parks, County Board of Supervisor for District 2, has taken money from Sacramento and used fear to manipulate people. She has used her position to punish those among us who dare to stand up for ourselves, our families, our businesses, our right to worship, and our lifestyles! These life-affirming features of our nation, state, and county are protected by our Constitution!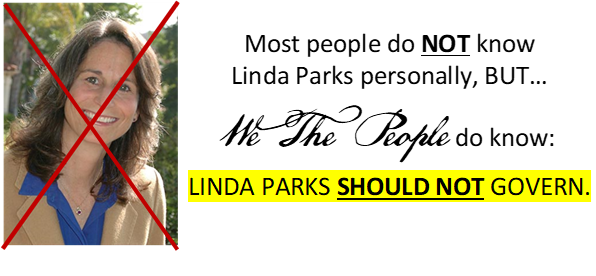 "Where the people fear the government you have tyranny. Where the government fears the people you have liberty." John Basil Barnhill, Barnhill-Tichenor Debate on Socialism, As It Appeared in the National Rip-Saw (Saint Louis, Mo.: The National Rip-Saw Pub. Co., 1914), 34.